J.P. Kleinhans offers excellent concessions in the Eastern Cape, elsewhere in South Africa, and Mozambique, offering a tremendous range of game. Africa has many extremely competent outfitters and professional hunters. J.P. is certainly among them, but few make it as much fun! If you like to laugh, you'll love hunting with J.P. Kleinhans!
www.craigboddington.com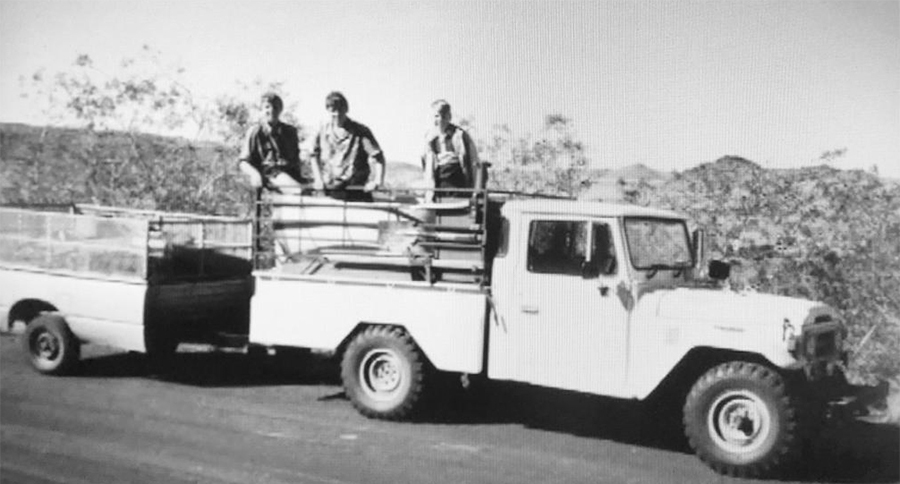 Much to my mother's disapproval, my dad would take us 3 boys on 6 to 8 week Safaris during the 3 week June school holiday. A father, his 3 boys and enough supplies to last 8 weeks in the bush, loaded onto a single cab Toyota Land Cruiser with 12 ply tyres and long range diesel tanks! No AC, cellphones or play stations-this was never about comfort, but a father building incredible memories with his boys.
Nothing will ever compare to sitting around the camp fire on the mighty zambezi river at night, legs full of welts from tsetse fly bites and aching from countless miles of following herds of buffalo and elephant, listening to hunting stories dad and uncle Wille de beer would tell. I would look into that hot mopani fire and think to myself, "boy, I can't wait to be old enough to be a hunting guide just like my dad." Little did I know that years later a sad encounter with lions would end dad's life at only 48 years old. I was only 19 at the time and us boys had to grow up real fast. With lots of prayers and hundreds of hours of sleepless nights we managed to keep the family farm and hunting company.
At the age of 23 I married Natia, my high school sweetheart. Soon after we decided to break away from the family business and started "J.P Kleinhans Safaris" We had two children J.P. jnr and Louise. Being married to an African outfitter that loves the bush and is trying to build a Safari company meant that Natia and my kids had to be at the lodge alone for months on end every year. Handling clients, permits, running the ranch, raising kids and always improving the lodge was what kept Natia hard at work while I was gone. The saying, "behind every successful man is a tired woman" cannot be more fitting. Well here we are more than 35 years later, after I had my dreams about owning my own Safari business on the banks of the zambezi river as a little boy.
Thanks to each and every one of our loyal friends and clients over the years. We would never be here without you. We have many clients that have done 10, 15 and even 17 Safaris over the years.
We strive to let every client arrive as a complete stranger and leave as a friend. I think what sets us apart is the fact that I feel any outfitter can find you good animals, but the memories of a lifetime comes from making every Safari fun for all our clients.
Kind Regards Jp
THE J.P KLEINHANS SAFARI COMPANY
PREMIUM HUNTING SAFARIS SINCE 1978
Based in the game rich and popular Eastern Cape of South Africa, our safaris take place in all nine of the South African Provinces. This broad range of hunting areas offers our clients an infinite number of plains game and dangerous game species from which to plan the African safari of a lifetime.
These are but a few of our videos that will give you a feel for some of the incredible experiences we can provide for our clients.
Books and DVDs Featuring J.P. Kleinhans
J.P. Has been featured in several books and DVDs about Africa and Hunting.
J.P. Kleinhans
P.O. Box 474
Hankey 6350 RSA
Office:
jpsafari@lantic.net
Mobile:
+278299240